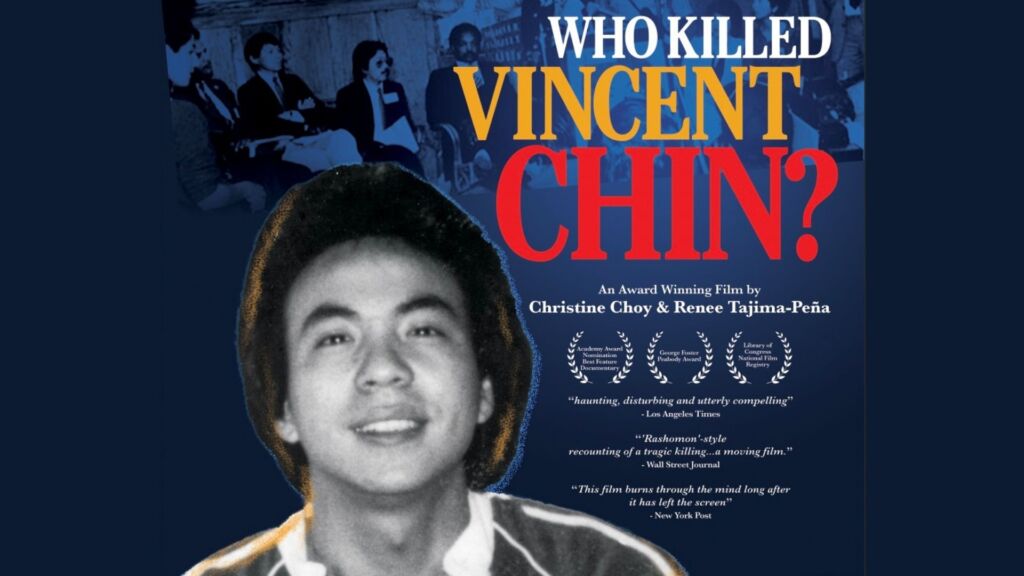 PBS Books, in collaboration with the Center for Asian American Media, will highlight the 1987 Academy Award® nominated film, "Who Killed Vincent Chin?" In commemoration of the 40th anniversary of Vincent Chin's murder, this film will be re-released in a special encore presentation by PBS's POV and Detroit Public Television on June 20 at 10pm ET. Leading up to the broadcast on two Wednesdays in June (June 8 and 15), PBS Books will offer two virtual programs, including a special preview of the documentary film.
'Who Killed Vincent Chin?" (1987)
On June 19, 1982, Vincent Chin, a Chinese American, was murdered by two white men in Detroit, Michigan. This documentary details the incident from initial eye-witness accounts, the ensuing murder trials to the lenient sentences the assailants received, and the repercussions for the families and community involved. "Who Killed Vincent Chin?" also chronicles how the case brought the Asian American communities of Detroit together for the first time, and how they transformed themselves into a national movement. This powerful and important film helps bring public attention to the anti-Asian hate that led to Vincent Chin's murder, and encouraged Asian American groups across the country to fight for equality and justice. In a moment where our country has seen an increase in hate crimes against Asian Americans, the film and our corresponding programs are even more important. The film was recently restored by the Academy of Motion Picture Arts and Sciences, and also selected for the National Film Registry.
June 8, 2022 8pm ET | 5pm PT
In commemoration of the 40th anniversary of Vincent Chin, PBS Books is pleased to interview award-winning author Paula Yoo, who recently published "From A WHISPER TO A RALLYING CRY: The Killing of Vincent Chin and the Trial that Galvanized the Asian American Movement". It is a groundbreaking portrait of Vincent Chin and the case that took America's Asian American community to the streets in protest of injustice. Paula will be interviewed by Zosette Guir, Manager of Detroit Public TV's One Detroit initiative.
While Paula Yoo's book was written for a YA audience after significant research, it has captivated audiences of all ages. She has crafted a suspenseful, nuanced, and authoritative portrait of a pivotal moment in Civil Rights history, and a man who became a symbol against hatred and racism. In this current climate of civil unrest and a country confronting a history of deeply rooted systemic racism, the story of Vincent Chin is as important now as ever. Asian American history is often overlooked and undertaught in schools, and Vincent Chin's name remains relatively unknown despite making national and international headlines at the time. Now, almost 40 years later, it's time to remember Vincent Chin and the significant role his case played in American history.
About the Author: Paula Yoo
Paula Yoo is an award-winning author of children's books, a former journalist, and current screenwriter who has merged her talents to create a thoroughly researched and reported nonfiction book, but with the intensity of a suspense movie thriller, and the intimate emotional character journey of a novel. As a Korean American who's specialized in multicultural Asian-American themed children's books, and having lived in Detroit working as a journalist for The Detroit News, Yoo is able to examine the controversial racial issues behind the Vincent Chin story with sensitivity, authority and grace. "From a Whisper to a Rallying Cry" is her debut YA nonfiction book. She lives in Los Angeles.
Wednesday, June 15 at 8pm ET | 5pm PT
In commemoration of the 40th anniversary of the death of Vincent Chin, PBS Books, in collaboration with DPTV, is pleased to host an important conversation about "Who Killed Vincent Chin?" with Filmmakers Christine Choy and Renee Tajima-Peña, along with executive producer Professor Juanita Anderson and attorney/activist Jim Shimoura. The conversation will be moderated by Bill Kubota, a Senior Producer at Detroit Public Television's One Detroit.
Join us to understand more about the process of creating this incredible documentary film, the challenges and obstacles the filmmakers needed to overcome, and the importance of the film. In addition, you can expect to learn about the film's relevancy in today's climate; the role of this documentary film in Asian American and Pacific Islander history, and the activism from the 1980s to today. Given recent Asian American discrimination and hate crimes in the last few years, we encourage a broad audience to join this program to learn about this important documentary film 40 years later.
"Who Killed Vincent Chin?" Film Description
In June of 1982, 27 year-old Chinese American Vincent Chin was celebrating his bachelor party when he encountered Chrysler Motors foreman, Ronald Ebens. Ebens, aided by his stepson, Mike Nitz, bludgeoned Vincent Chin that night to death with a baseball bat. After Ebens and Nitz pleaded guilty to manslaughter and were each sentenced to three-year probation and $3,000 fine, the Asian American community was outraged. In "Who Killed Vincent Chin?", filmmakers Christine Choy and Renee Tajima- Peña chronicle the historic campaign for Justice for Vincent Chin spearheaded by his mother Lily, Detroit's American Citizens for Justice, and a nationwide coalition of activists. Nominated for an Academy Award, "Who Killed Vincent Chin?" became a landmark in Asian American filmmaking and a classic in US independent cinema.
About the Filmmakers: Christine Choy & Renee Tajima-Peña
Filmmaker Christine Choy was born in Shanghai, People's Republic of China, and grew up in Hong Kong, South Korea, Japan and the U.S. Christine Choy is an educator, filmmaker, artist; a pioneer Asian American film maker, she has produced/directed/photographed works in various forms. Choy has made more than eighty five films and received over sixty international awards. She has been a recipient of numerous fellowships, among them: John Simon Guggenheim, Rockefeller, Asian Cultural Council, Fulbright Senior Research, and an award for best cinematography from the Sundance International Film Festival. Choy's latest collaborative documentary film, "The Exiles", won the Grand Jury Prize at Sundance in 2022.
Choy was trained in architecture, but later studied directing at the American Film Institute to become a filmmaker. Her work is concerned with discrimination and migration issues. In addition to the Academy Award-nominated co-directed "Who Killed Vincent Chin?" (1987), Choy also directed "From Spikes to Spindles" (1976) which focuses on Chinese migrant workers, Choy is currently a Professor of Film and Television at NYU's Tisch School of Arts and has taught at Yale, Cornell, and SUNY Buffalo.
Her works have been broadcasted on HBO, PBS, Sundance Channel, Life Time, NHK, and many other stations. Her works have also been featured in festivals all over the world. She is the founding director of Third World Newsreel and School of Creative Media, City University of Hong Kong, a member of Project Vetting committee of the Film Development Fund, Hong Kong, and a member of AMPAS (Academy of Motion Pictures and Science of United States of America).
Filmmaker Renee Tajima-Peña was born in Chicago, Illinois. Her grandparents moved from Japan during the Asian Exclusion Era in the early 1900s. She is a filmmaker, known for "No Más Bebés" (2015), "Calavera Highway" (2010) and "My America… or Honk If You Love Buddha" (1997). Tajima-Peña is a Harvard University alum and majored in East Asian Studies and sociology. She is heavily involved with the Asian American movement and the Civil Rights Movement.
Her work focuses on issues of immigration, race, gender, and social justice and has been screened internationally and at festivals such as Cannes Film Festival and Sundance Film Festival. Tajima-Peña most recently produced a five-part PBS series "Asian Americans" (2020). She is currently a Professor of Asian American Studies at UCLA.
About the Featured Guests: Juanita Anderson & Jim Shimoura
Juanita Anderson was the executive producer of "Who killed Vincent Chin?" She is a veteran producer/director, executive producer and documentary filmmaker who has amassed a significant body of work in public television and independent media. A native of Detroit, she is currently Associate Professor of Teaching and Area Head of Media Arts and Studies in the Department of Communication at Wayne State University.
As Executive Producer of Cultural Affairs and Special Projects at Detroit Public Television from 1982-1988, she developed and oversaw the production of "Who Killed Vincent Chin?" She was also the executive producer of groundbreaking PBS news and public affairs specials focused on highlighting Black America, as well as other important social issues.
A long-standing advocate for diversity in media, Anderson co-founded the National Black Programming Consortium in 1978 (now Black Public Media), and has served on the board of directors of the Independent Television Service. She is currently the Resident Artist in Media Arts at The Carr Center in Detroit.
Jim Shimoura has been an attorney and activist for 35 years and his experience has spanned a wide variety of areas from legal aid, staff counsel for two national insurance carriers, and was a partner at a major Detroit area law firm.
He has acted as the counsel to OEM automotive suppliers to the Big Three Manufacturers. Among his numerous civic and political activities, Mr. Shimoura was appointed by President Bill Clinton to the White House Commission on Presidential Scholars, where he served as a commissioner for nearly a decade. He has received numerous civic awards.