In celebration of Poetry Month and in collaboration with the Association for the Study of African American Life and History (ASALH), meet with "America's Favorite Rapping Teacher" Dwayne Reed to hear all about Simon B. Rhymin'. Inspired by the children he teaches and his hometown of Chicago, Dwayne has a passion for education and music. Using the power of rap and rhyme, Dwayne shows us that even the underdog can make a difference.  The event will occur on Wednesday, April 14 at 5pm ET on PBS Books Facebook Live and Youtube pages.
About the Author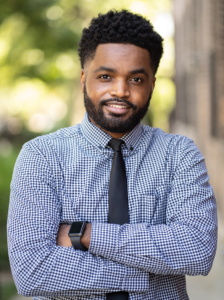 Dwayne Reed is a Chicago teacher, whose viral back-to-school music video "Welcome to the 4th Grade" took the internet by storm. His debut novel, Simon B. Rhymin' , inspires young readers everywhere to use their voice to create change within their communities. When he's not writing, rapping, or teaching, Dwayne can be found presenting at educator conferences across the U.S. or loving on his beautiful wife, Simone.
About the Book
Eleven-year-old  Simon  Barnes  dreams  of  becoming  a  world-famous  rapper  that  everyone  calls  Notorious D.O.G. But  for  now,  he's just a  Chicago  fifth  grader who's grader who's small for his age and afraid to use his voice.
Simon prefers to lay low at school  and at home, even  though he's constantly  spitting  rhymes in his head. But when his new  teacher assigns  the class an oral presentation on something  that affects  their community, Simon must  face his  fears of  talking to people when he decides  to  focus  on the homeless population in his neighborhood.
With some help from an unexpected ally and his friends, will Simon gain the confidence to rap his way to an A and prove that one kid can make a difference  in his 'hood.