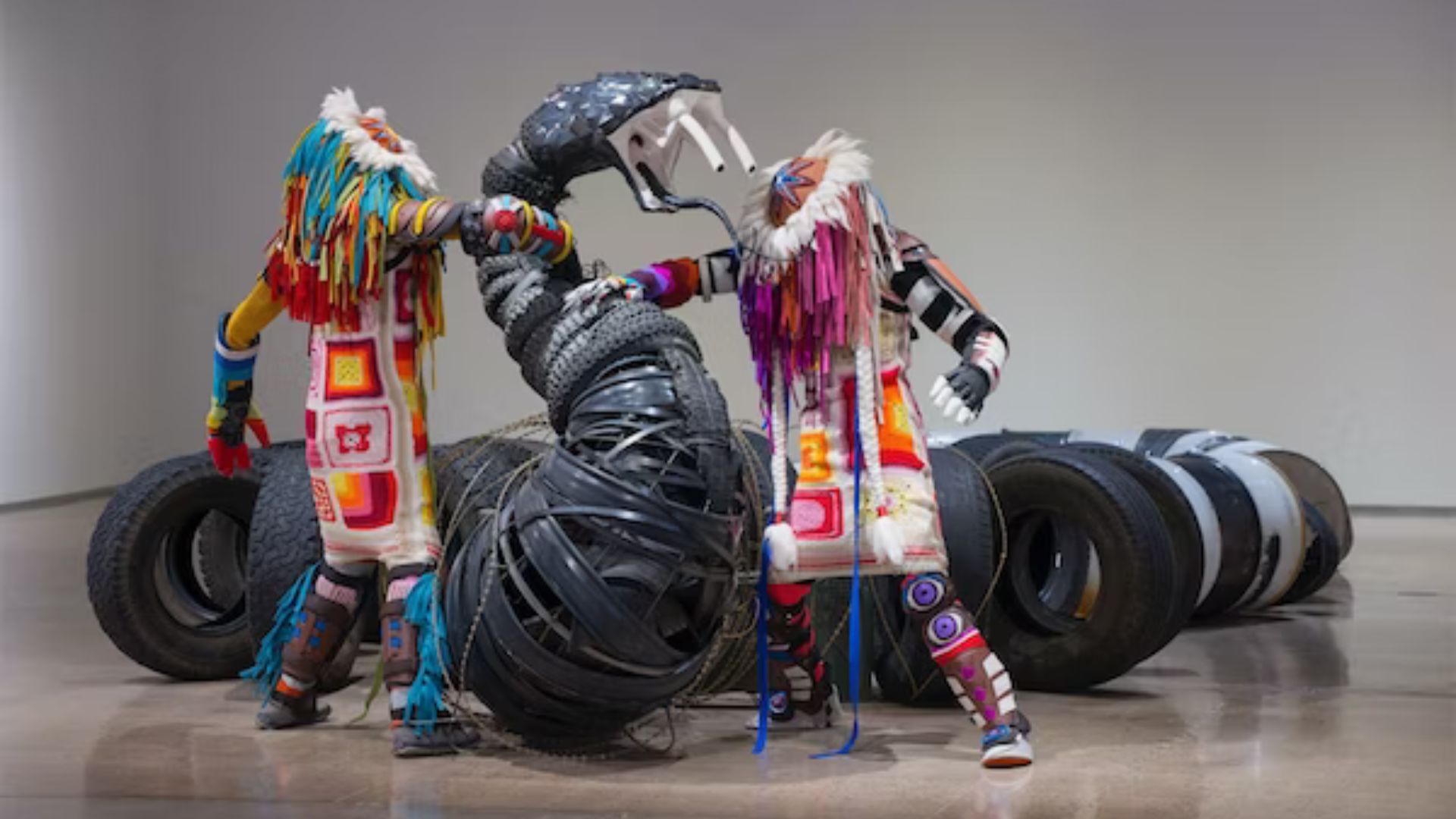 This speaker event is recorded live on Thursday, October 26, 2023, at 5:30 pm in the Michigan Theater, Ann Arbor, MI.
Multidisciplinary artist Cannupa Hanska Luger creates monumental installations, sculptures, and performances, to communicate urgent stories about 21st-century Indigeneity, incorporating ceramics, steel, fiber, video, and repurposed materials to reclaim and reframe a more accurate version of Native American culture and its global relevance. Luger combines critical cultural analysis with dedication and respect for the diverse materials, environments, and communities he engages while provoking diverse audiences to engage with Indigenous peoples and values apart from the lens of colonial social structuring.
Co-commissioned by UMMA and Monument Lab, the centerpiece of Luger's newest project You're Welcome resides on the exterior of UMMA's building and responds to the question: ​"How do we remember on this campus?" Luger's work asks the campus and community to reconsider the memories molded into the Museum's stone — the perspectives that shaped those traditions and the stories that remain unseen in our façade. This artistic interrogation dissects colonialist norms of monument-making, explores the roles of buildings in upholding dominant cultural narratives, and offers an approach to memorials that centers Indigenous perspectives and collaboration to tell fuller stories and histories.
---
This winter, the Penny Stamps Distinguished Speaker Series brings respected leaders and innovators from a broad spectrum of creative fields to Ann Arbor's historic Michigan Theater for weekly in-person events.
Detroit Public Television and PBS Books, in partnership with the Stamps School, will stream each week's event Fridays at 8pm.
See the full schedule of events livestreamed by PBS Books here.
Some programs may not be available online, depending on artist requests. Interested in receiving notifications before online videos go live? Sign up to receive a reminder before each event begins streaming.