PBS Books continued its Trailblazing American Women Writers Project Series with poet and activist Sonia Sanchez on March 18.
Sanchez is known as a leader of the Black Arts Movement, and has written over a dozen books of poetry as well as essays, plays, and children's books. She is known as the first poet to use urban Black English in written form, using rhythm to change the world of poetry. Along with being a leader in the Black Arts movement, she was and continues to be active in the Civil Rights movement.
About the Series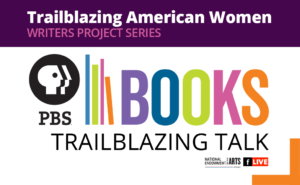 The PBS Books Trailblazing American Women Writers Project's goal is to highlight incredible women authors and their accomplishments as part of our ongoing celebration of the ratification of the 19th Amendment, supported in part by a contribution from the National Endowment for the Arts. PBS Books will release a video highlighting our honored guest after the event to further promote her life and work. We hope to use technology and media to increase access to her work, reach new audiences and encourage dialogue about these writers while inspiring young trailblazers.