HEMINGWAY premiered on PBS April 5, 2021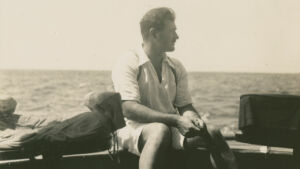 Ernest Hemingway wrote for the common person, so that anyone could understand his manifold adventures with ease. The latest film by Ken Burns and Lynn Novick, HEMINGWAY examines the visionary work and the turbulent life of Ernest Hemingway, one of the greatest and most influential writers America has ever produced. Interweaving his eventful biography — a life lived at the ultimately treacherous nexus of art, fame and celebrity — with carefully selected excerpts from his iconic short stories, novels and nonfiction, the series reveals the brilliant, ambitious, charismatic and complicated man behind the myth and the art he created.
Book Club Conversation
PBS Books was proud to announce a book club conversation on Ernest Hemingway, in conjunction with the new PBS series, HEMINGWAY.
We encouraged people across the nation to read a book written by Hemingway in March, watch the HEMINGWAY documentary, and then join us for a virtual book club conversation with the filmmakers, Ken Burns, Lynn Novick and Sarah Botstein, the following day, April 8.
The filmmakers discussed the HEMINGWAY film, as well as the work and life of Ernest Hemingway. PBS Books hosted a Q&A-style virtual discussion on Facebook Live and through libraries in the PBS Books Network. The conversation was moderated by the Librarian of Congress Dr. Carla Hayden.
PBS Books encouraged its community to discuss the books on the PBS Books and PBS Books Readers Club Facebook pages.
PBS Books aims to allow readers an opportunity to connect with great American authors through a new lens, whether it be with the writers themselves or those knowledgeable about their work.
PBS Books Hemingway Exhibition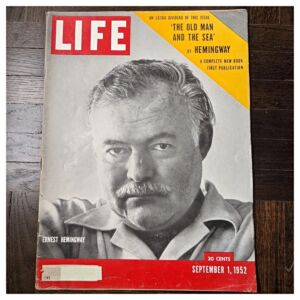 Celebrating Ernest Hemingway's work and life, PBS Books opened a virtual exhibition on Monday, March 29, 2021.  In partnership with 10 libraries and 8 PBS stations, the exhibition highlights unique Hemingway books and materials found at libraries across the country. From galley copies to first editions to letters to movie memorabilia, this exhibition speaks to the legacy that Hemingway has created across our nation.
PBS National Conversations on Hemingway: A Virtual Event Series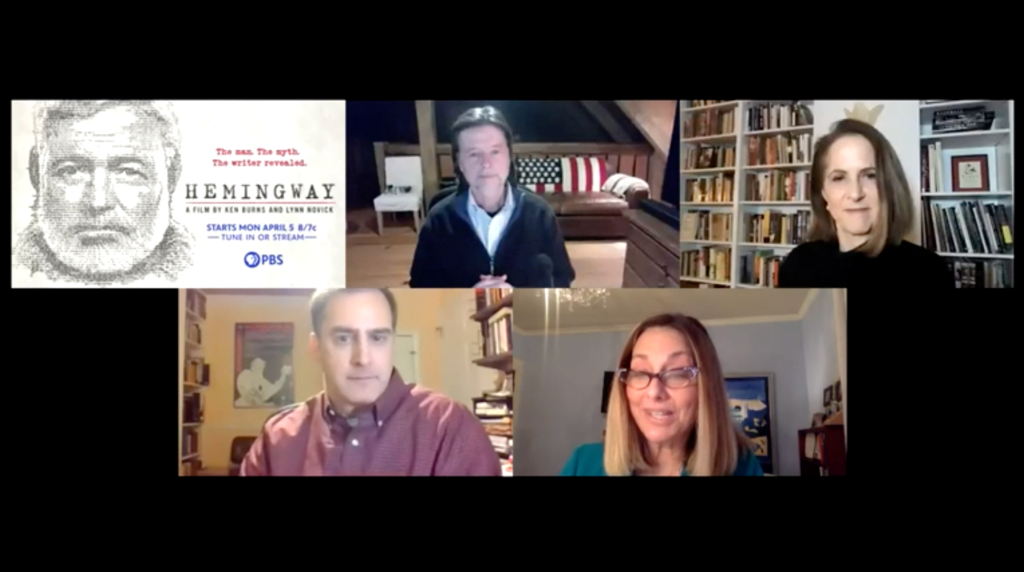 Join the filmmakers and special guests as they explore the writer's art and legacy. The hour-long discussions feature clips from the upcoming three-part series.
Booklist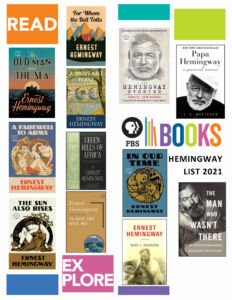 PBS Books has compiled a booklist containing top picks of Hemingway books and Hemingway biographies.
Corporate funding for HEMINGWAY was provided by Bank of America. Major funding was provided by the Annenberg Foundation, The Arthur Vining Davis Foundations, and by 'The Better Angels Society,' and its members John & Leslie McQuown, the Elizabeth Ruth Wallace Living Trust, John & Catherine Debs, The Fullerton Family Charitable Trust, the Kissick Family Foundation, Gail M. Elden, Gilchrist & Amy Berg, Robert & Beverly Grappone, Mauree Jane & Mark Perry; and by the Corporation for Public Broadcasting and PBS.