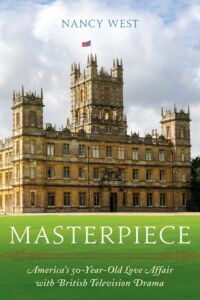 PBS Books hosted a virtual conversation with author Nancy West of Masterpiece: America's 50-Year-Old Love Affair with British Television Drama and executive producer-at-large Rebecca Eaton from PBS MASTERPIECE on Thursday, January 14.
MASTERPIECE celebrates its 50th Anniversary in 2021, as it debuted on PBS in 1971. Throughout its history, it's showcased adaptations of countless classic novels including Anna Karenina, Bleak House, Cranford, David Copperfield, Middlemarch, Oliver Twist, Pride and Prejudice, A Room with a View, Vanity Fair, War and Peace, Little Women, and Les Misérables. More than half of Masterpiece's programming is based on literary adaptation. Fast forward to today and our appetites for British drama are bigger than ever before.
Hear vibrant stories from MASTERPIECE Executive Producer-At-Large Rebecca Eaton and author Nancy West of Masterpiece: America's 50-Year-Old Love Affair with British Television Drama. Her book combines excerpts from original interviews, thoughtful commentary, and lush photography to deliver a deep exploration of the television drama series that debuted on PBS in 1971. Plus, you'll have an opportunity to learn about the 2021 MASTERPIECE programs. See you there!
About the Author
Nancy West is professor of English at the University of Missouri. She is the author of Kodak and the Lens of Nostalgia (2000) and Tabloid, Inc.: Crimes, News, Narratives (2010).West's books have earned her appearances on PBS's The American Experience and the BBC's The Genius of Photography as well as keynote talks at The National Gallery of Art in Washington, DC, the London School of Design, and the Amon Carter Museum. She is a regular contributor to Written By magazine, The Atlantic, The Chronicle of Higher Education, and The Los Angeles Review of Books.
About the Producer
Rebecca Eaton regards her decades-long stewardship of Masterpiece as the ideal job for the daughter of an English professor and an actress. She has been the executive producer of the show for more than 30 years. Awards on her watch include forty-three prime-time Emmy awards, fifteen Peabody awards, two Golden Globes, and two Academy Award nominations.
At Masterpiece Theatre and Mystery! she extended the programs' reach with contemporary dramas; initiated co-productions with the BBC (Middlemarch, The Buccaneers); co-produced feature films such as Jane Austen's Persuasion and Mrs. Brown starring Dame Judi Dench; and oversaw the rebranding of the series in 2008. Queen Elizabeth II awarded her an honorary OBE (Officer, Order of the British Empire) in 2003. She lives in Cambridge, Massachusetts, and spends time at the family house in Kennebunkport, Maine.
This event will be co-moderated by Fred Nahhat and BaBette Davidson.